DZ Details
Wisconsin's Premier Skydiving Dropzone
Welcome to WSC!
Team WSC has jumped at skydiving centers all over the world and we've taken lots of notes along the way. We've incorporated the best of the good things, and made sure not to incorporate the not-so-good things.
The result is a purpose-built, mission-driven, skydiving dropzone that has earned us a stellar reputation. Our safety and customer service standards are exemplary, our community is diverse and welcoming, and our focus on fun is a guarantee.
We believe having a great skydiving experience hinges on a top-notch staff and world-class facility – and we have both! Below are a few of the things that set us apart from many other facilities around the United States.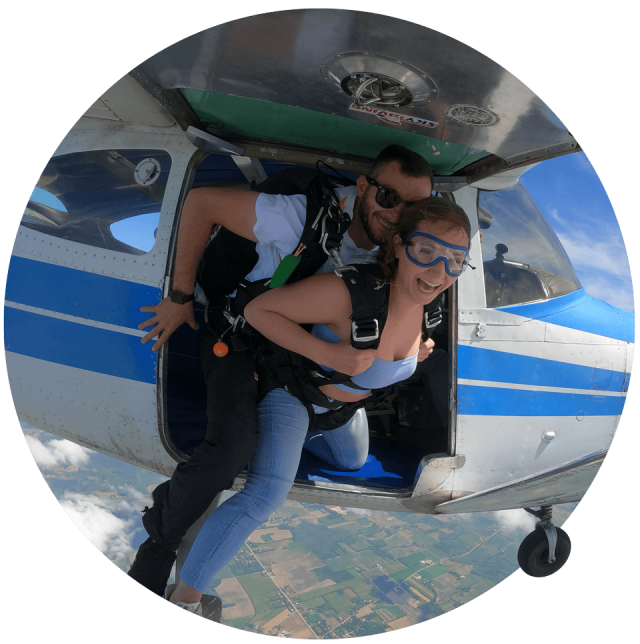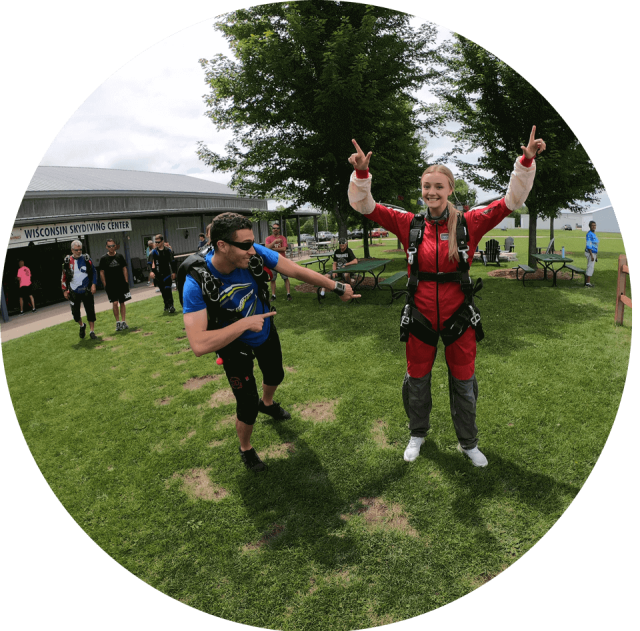 Focus on Hospitality
A great experience is so much more than jumping out and landing safely.
We've analyzed every customer point of interaction (there are 35+ touch points!) and we strive to ensure that our guests receive a 5-star experience at every single one.
At Wisconsin Skydiving Center, we operate as a customer service company that happens to offer A+ skydiving. We'd love to host you for a skydive!
Professional Staff
Our biggest point of difference is our people!
All of our tandem instructors must have a minimum of 500 skydives and at least three years in the sport before they are qualified to jump with our guests.
But we don't hire on skill alone. We're in the hospitality business and we ensure our staff are not only qualified but also down to earth with great personalities.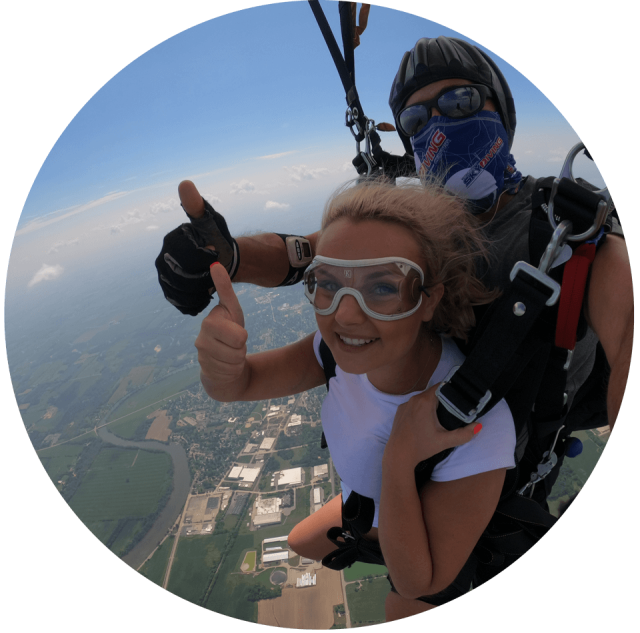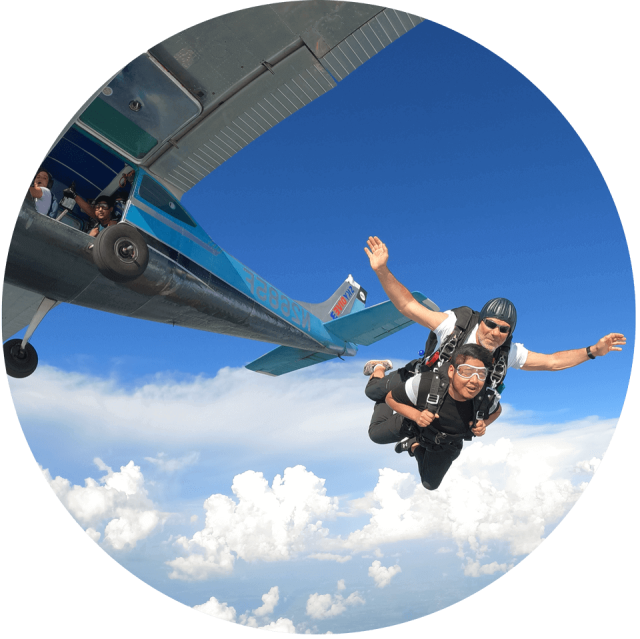 Fleet of Aircraft
WSC is home to two hangars and three Cessna 182s.
The 182 is a beloved plane among aviation enthusiasts and skydive operators because of its reliability, high performance, and relatively low operating cost.
We have a full-time Airframe and Powerplant (A&P) mechanic on staff who babies our aircraft, ensuring they're jump-ready every day, all season long.
Are you a pilot interested in flying for us? Check out our job opportunities.
Best-In-Class Gear
Don't compromise your experience!
Lots of dropzones jump with beat-up old gear that's been pushed to the max. Skydiving gear is super expensive, so we see how this happens … but, no thanks!
At Wisconsin Skydiving Center, we've made investing in and maintaining best-in-class equipment a high priority. We value feeling confident on every exit!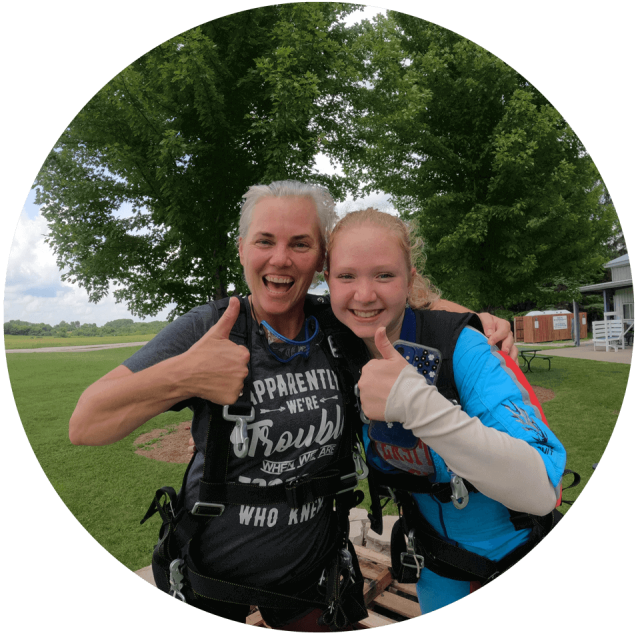 Clean Facilities
A clean facility is not the standard in our industry (trust us on that).
When visiting any skydiving center, you'll be on the ground longer than you'll be in the air. Having a good time during that ground time is important to your overall experience.
At WSC, our check-in area, packing mat, spectator area, shaded areas, barbecue grills, and community fire pit are always clean.
Perfect for Groups!
We've designed our facility for a great day out – for our skydiving guests and their crew!
Wisconsin Skydiving Center has an awesome spectator area with barbecue grills, picnic tables and a shaded terrace to ensure everyone's comfort.
Each year, we host family reunions, birthday parties, company picnics, bachelor/ette parties, and wedding engagements. For many, it's an annual event.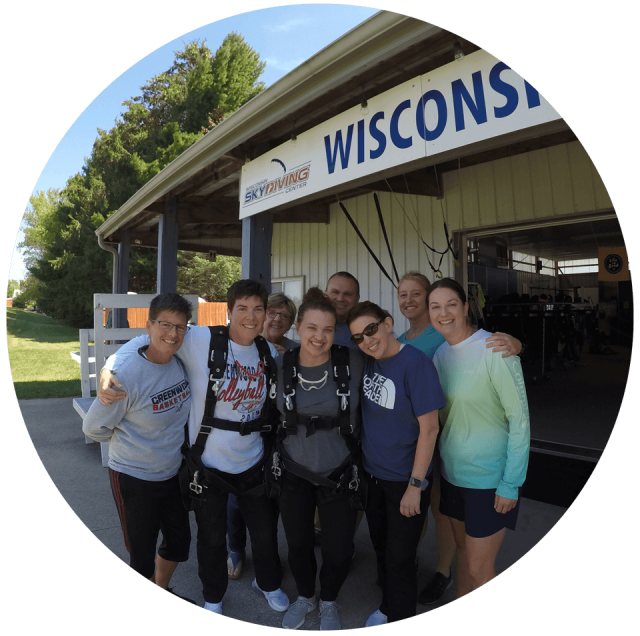 Newsletter Sign Up
Join Our Tribe!
When we established Wisconsin Skydiving Center back in 1998, we were super intentional about cultivating a culture of community, not competition – and more than 25 years later, it's what we're known for.
On behalf of our Sky Fam, welcome home!