Rigging Services
Skydiving & Emergency Parachutes
In-House Rigging
Our dropzone owner, Bo Babovic, is passionate about the craft of rigging. He maintains WSC's gear and equipment, and caters to the local skydiving community as well as pilots in need of a trustworthy rigger to maintain their emergency parachute systems.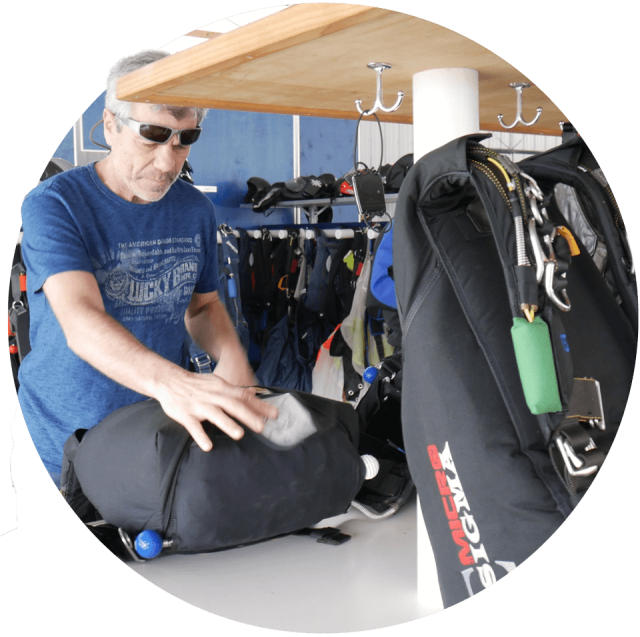 Qualifications & Experience
Bo has over 50 years in the sport of skydiving and military parachuting operations having made more than 20,000 jumps, including 200 jumps on round parachutes. Additionally, Bo is an instrument-rated commercial pilot with 2500+ hours and is an FAA Certified Mechanic with Inspection Authorization.
Rigging credentials: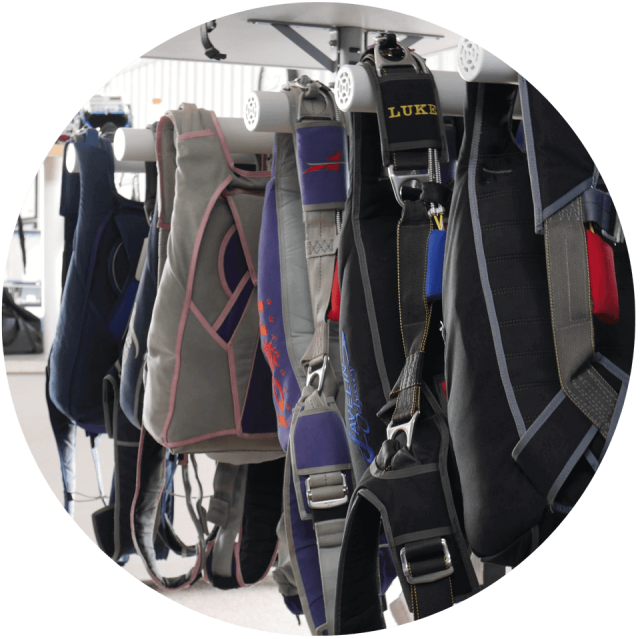 Inspection & Repack
Emergency Parachute Rigging Services
As per FAR Part 91.307 and 105.43, all Emergency Parachutes must be inspected and repacked every 180 days.
We offer an average turnaround of two days. Pilots can fly into the rigging shop at the Fort Atkinson Municipal Airport (61C), and taxi to the hangar for drop off and pick up.
Shipping is available too! Send us your parachute – we'll inspect and repack it, and ship it right back to you:
ATTN: Bo Babovic
Wisconsin Skydiving Center
N3407 County Highway K
Jefferson, WI 53549
Contact Us for Rigging Requests
Repairs & Adjustments
As an FAA Master Parachute Rigger, Bo is authorized to perform repairs on TSO Equipment.
Pilots! We can adjust your harness for a better fit to your body, and we can redistribute the bulk of your parachute for a much more comfortable seat.
Connect directly with Bo to discuss how we can customize your unique set up!
Use of Emergency Parachutes
We proudly host emergency bailout workshops to train you on how and when to bail out, how to deploy the parachute, and most importantly, how to land it safely.
These workshops typically include an actual orientation skydive (not mandatory). Call Bo directly for details.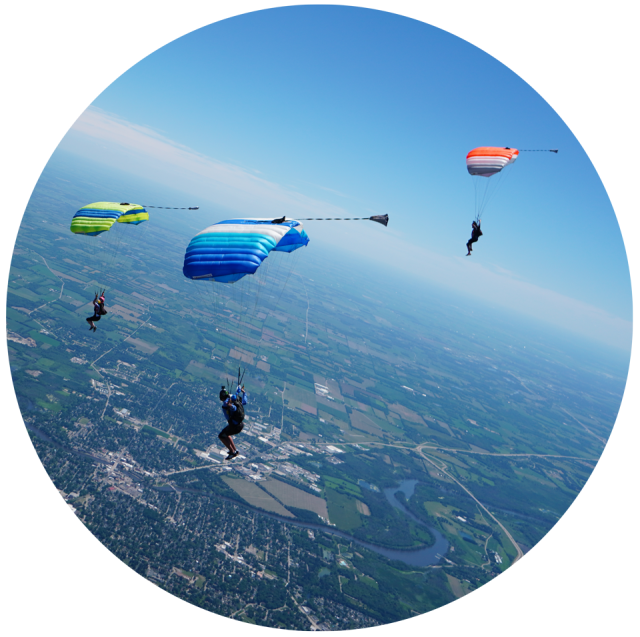 Parachute Rigging & Services Prices
Parachute Rigging and Services Prices
Service
Price
Pilot Emergency Parachute Inspection & Repack


FAA mandates reserve inspection and repack every 180 days

$90
Military & Seat Type Emergency Parachute Inspection & Repack


FAA mandates reserve inspection and repack every 180 days

$120
Sport Reserve Parachute Inspection & Repack


FAA mandates reserve inspection and repack every 180 days

$70
AAD Removal, Service, Shipping, Installation


Added/removed between repacks only by rigger who did repack; requires opening of the reserve pack and resealing

$240
Sport Rig Assembly


Assembly and repacking of both reserve and main

$140
Main/Reserve Parachute Inspection Only


Inspection of recent cutaway or new/used canopy purchase; main inspection report issued identifying any issues found

$30
Pre-Purchase Inspection


Gear inspection ahead of second-hand gear purchase

$30 - $60
48 Hours Expedited Service


Guaranteed normal turnaround time

$25
Overnight Expedited Service


Same-day service

$40
Sport Equipment Rigging Services
As a certified FAA Master Parachute Rigger, Bo is authorized and capable of doing repacks, repairs, and maintenance of all TSO and non-TSO skydiving equipment.
Bo offers innovative modifications on main parachute, containers, and accessories that make skydiving equipment safer and easier to use, including but not limited to:
Bo also specializes in repairs, repacks, and rigging of Tandem Parachute equipment.
Parachute Repair Prices
Parachute Repair Prices
Service
Price
Pilot Chute Pouch (BOC) Replacement
$80
Risers/Toggles Retrofit


Replacement recommended every 200-250 jumps

Starting at $20
Deployment Bag Repairs
Starting at $20
Elastic Keeper Replacements
$3 / Keeper
RSL Installation


Requires a rigger as reserve will be opened; if rig is not set up for an RSL, modification may be required at additional charge

Starting at $100
Canopy Patches


Price varies depending on size and location of hole

Starting at $60
Canopy Reline


Allow 1-2 weeks for receiving line sets from manufacturer; new slinks required at time of reline at additional charge

$130
Lower/Mid Brake Line Replacement


Watch for "fuzz" or fraying along brake lines, commonly lower lines

$30 / $50
Shop Hour


Additional time needed for repair billed as "shop hour"

$80
Newsletter Sign Up
Join Our Tribe!
When we established Wisconsin Skydiving Center back in 1998, we were super intentional about cultivating a culture of community, not competition – and more than 25 years later, it's what we're known for.
On behalf of our Sky Fam, welcome home!