Share the Love: The Story of Sean & Jessica
Jumper Profile
Posted by: Wisconsin Skydiving Center 3 years ago
Just over five years ago, Sean Kennedy and Jessica Downing found themselves sitting together. Knowing little about Sean, Jessica asked the first question that came to mind: "So, you skydive?" And the rest is pretty much history.
Swoon. We adore a skydiving love story – check theirs out!
(Spoiler alert: they're engaged.)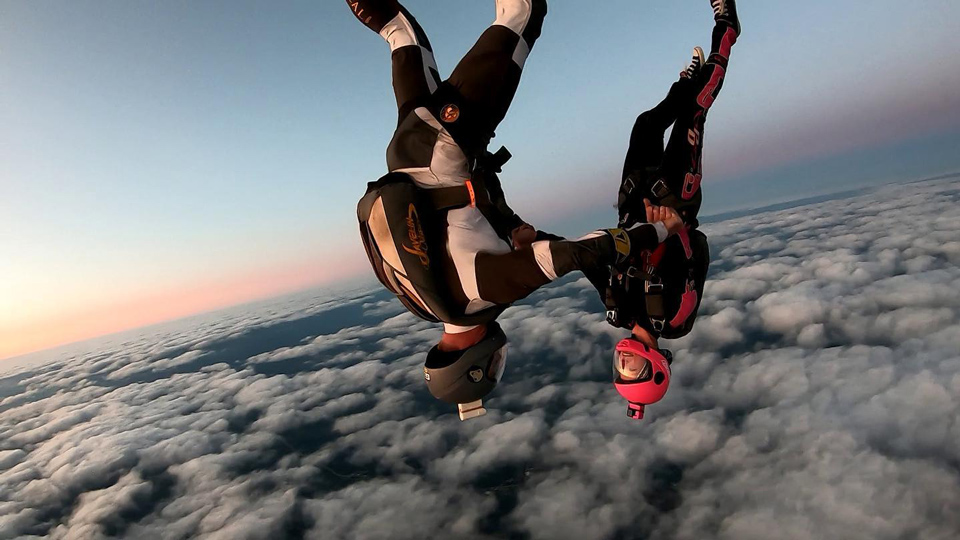 Similar Circles
Both originally from Waukesha, Sean and Jessica ran in similar circles but – with three years' age difference – they didn't properly meet until after high school.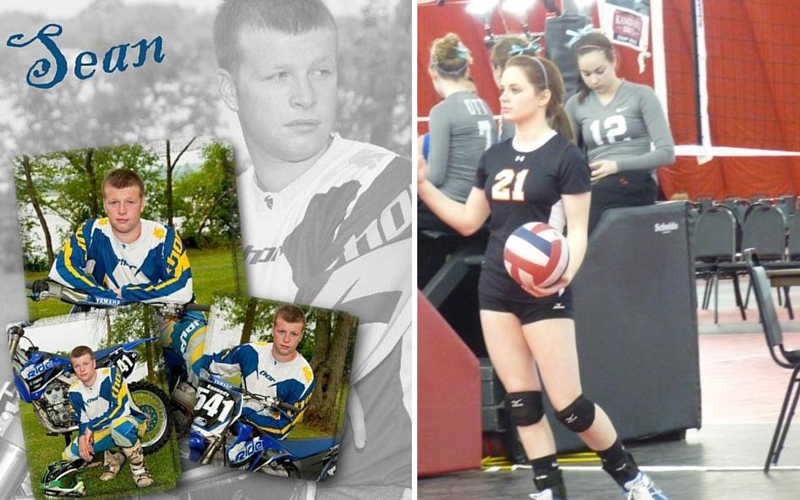 He played football, rode motocross, and shot in a gun league. She played soccer and volleyball. Both were super competitive … and mischievous. Sean was the Biggest Daredevil, and their respective classmates voted both of them as Most Rebellious.
Jessica earned the title honestly, plus she was outta sight outta mind much of the year. She'd earned so many credits in advance she scarcely went into the school building. Destiny had her work cut out, but she soon found a way to bring Sean and Jessica together …
Tunnel Vision
Sean admits that once he's interested in something, he's all in. Football was everything, until motocross totally eclipsed it. When an injury suspended Sean's future in racing, skydiving won his full attention.
At age 22, Sean did his first jump. He was terrified. With Milan (who Sean now films with) as his guide, he LOVED it. On landing, his adrenaline was pumping, his energy was sky high and he immediately ran to the hangar, jumping over the fence, to buy a second jump.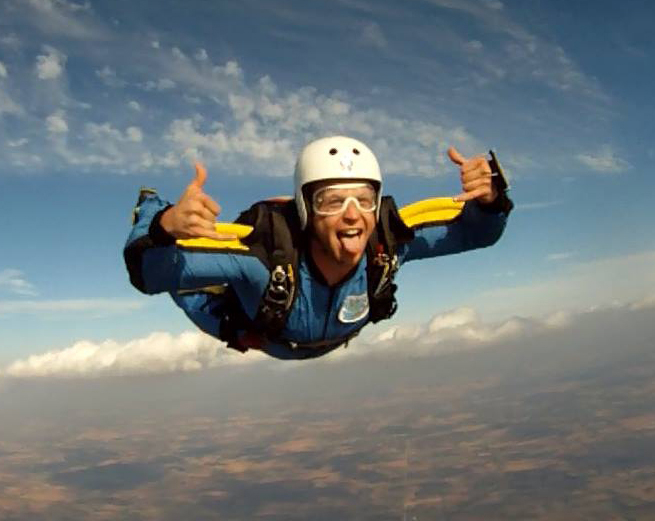 Later that Summer he jumped again, and this time, upon landing, was committed to learning to skydive solo. AFF was technically over for the year, but Bo took Sean under his wing and coached him one-on-one all the way to his check dive. Three weeks later – on the very last load of the very last day of the 2014 season – Sean earned his A License.
One Fateful Friday
It was September 2015 – the 25th to be exact – and a big group gathered at a fish fry before heading to a bonfire party. At one point, the only free seat by the fire was beside Sean. Jessica sat down and, knowing Sean's brother, immediately thought of the Facebook photos she'd seen of him skydiving. "So, you skydive?" she asked …
Conversation came easy and Jessica and Sean talked until the sun came up. They talked the next day and the day after. By November, they were a couple.
One month into officially dating, Sean and Jessica enjoyed their first Christmas – which is also Jessica's birthday – together. Not knowing what to get his new belle, Sean bought her his favorite thing: a tandem. Jessica (who has a significant fear of heights) was not interested in skydiving (like, at all).
Merry Birthday
The "oh, you shouldn't have" feeling followed Jessica into June 2016 when she finally booked her first jump. She was silent on the ride to the DZ. Said nothing during ground school. Kept mum all the way to altitude. She was petrified.
The second the door opened, a feeling of calm washed over Jessica. She was no longer afraid. To her delight, freefall didn't feel like falling. And it felt long. Surrendering seemed to make everything happen in slow motion.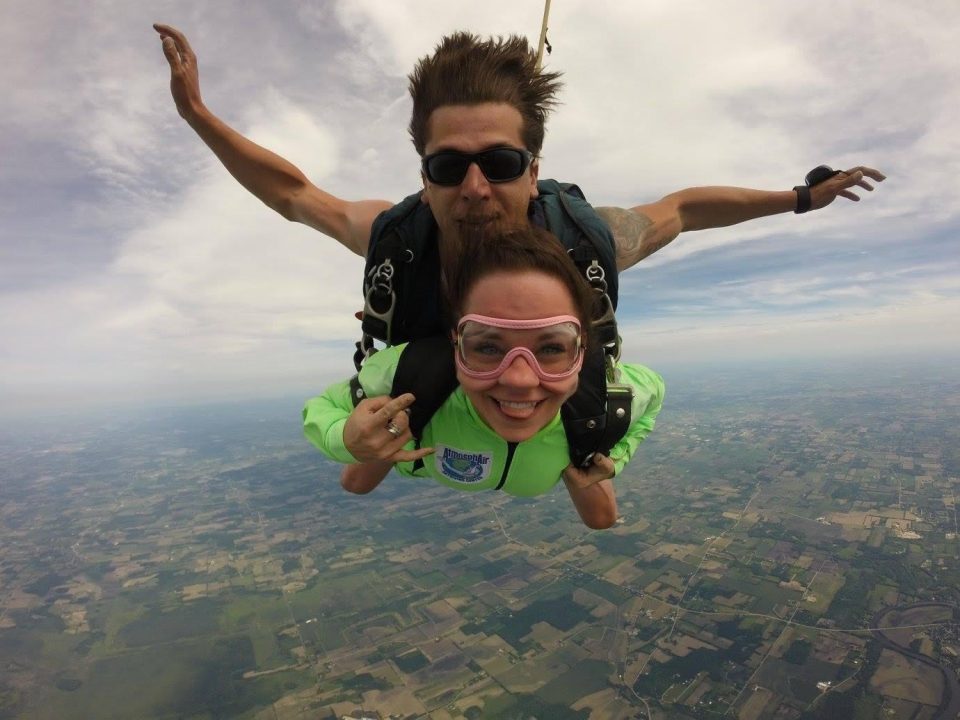 She finally understood why Sean loved skydiving. It was an amazing first jump and she bought a second, but the pull to go again wasn't as strong as it was for Sean. A month later she jumped again and figured the itch had been scratched.
Big Jim
That October, Jessica and Sean vacationed in Hawaii and – as skydivers do – Sean made it a priority to jump. At Skydive Hawaii (where Bo worked back in the day) they met Big Jim, who suggested that Jessica's third time might be the charm. He was right.
From wheels up to touch down, Big Jim engaged Jessica with what was happening, how and why, and what would happen next. She became an active participant in the jump, not just a passenger. She landed enriched, inspired, and excited.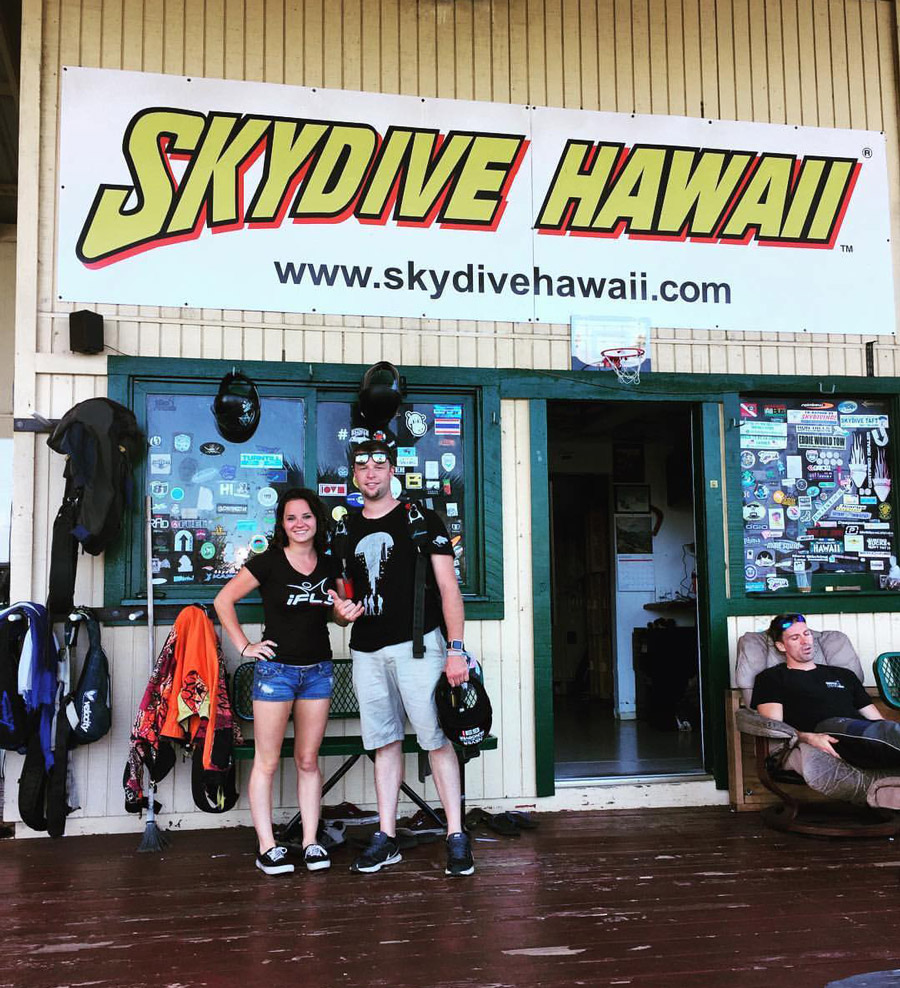 As soon as the WSC season rebooted, Jessica started AFF. She earned her A in a month and then jumped nonstop. At 80, though, she hit a mental brick wall and got scared all over again. After some months on the ground, Jessica's coach asked her to consider one more jump before hanging up her rig for good. That's all it took …
Progression
With her head back in the game, Jessica rocketed into gear. Today, she has 600 jumps, is a coach and AFF instructor, will soon start shooting video, and is working toward tandem instructor status. Her style is distinct. She values the gains that she and her students achieve after every single jump. What they accomplish is relevant to skydiving, of course, but it also informs the human experience. They learn from one another, celebrate together. Jessica is carrying the torch lit by Big Jim years ago.
Sean's journey never faltered and, at over 1150 jumps, he has no plan to slow down. He's an AFF instructor, a coach, has his IAD rating, and shoots tandem video. His disciplines of choice are freefly, swooping and big way, and has been participating in big way camps at Skydive Chicago and at ZHills. He's also interested in further exploring BASE after an incredible first jump in 2018 (note, Jessica's first and last) in South Africa.
During the skydiving season, they work all day – Sean as an electrician, Jessica as an office manager – and jump in the evenings and all weekend long. In the off-season, they snowboard, work on home improvement projects, watch the Vikings, and travel (always hitching their star to an awesome skydiving destination).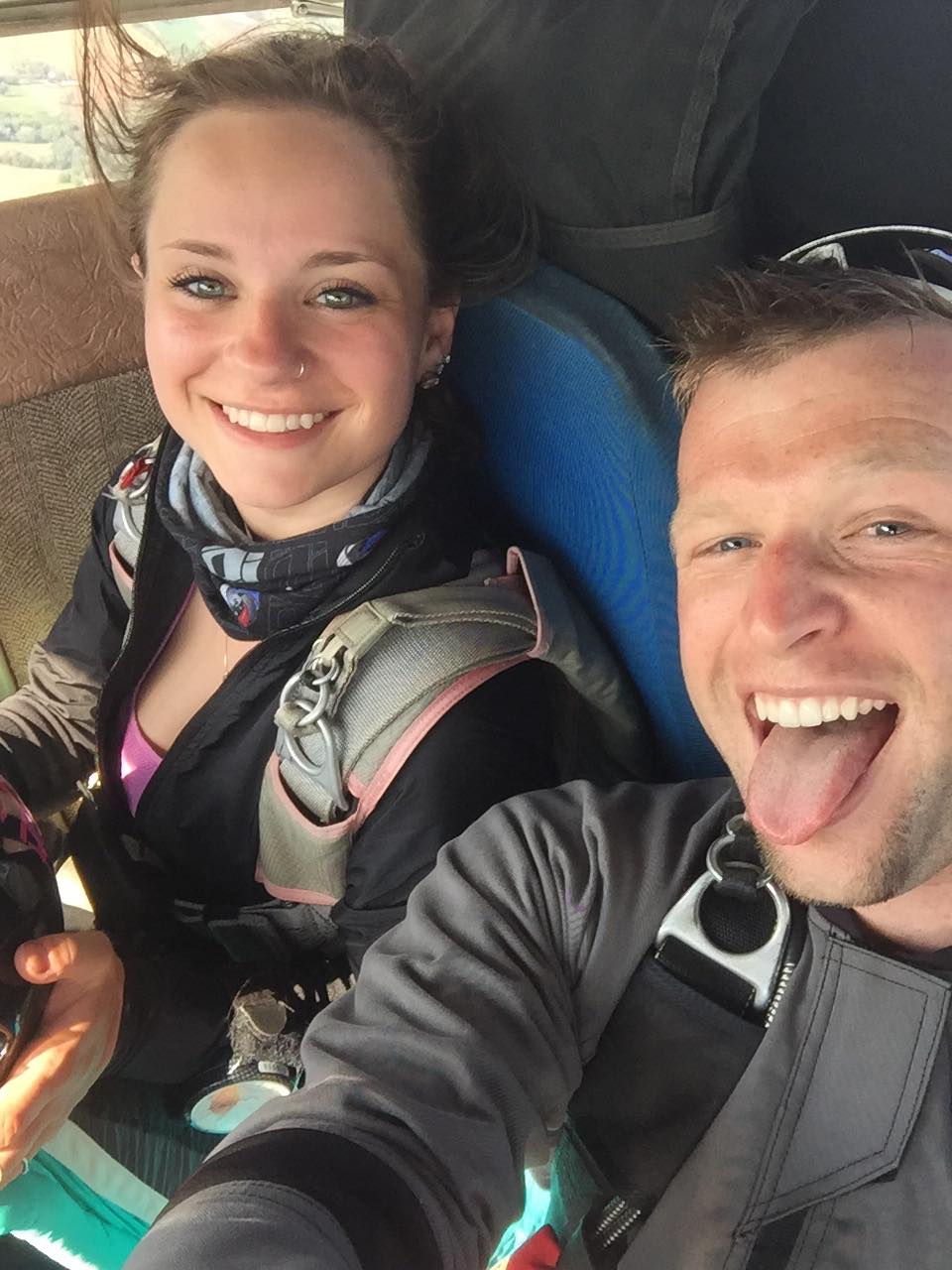 The Future
On December 25, 2020, Sean asked Jessica if she'd "rip two-way no plan jams" for the rest of her life with him. After a good three minutes of joyful tears, she said yes. Plans are coming along swimmingly for their 2022 wedding and for their honeymoon in New Zealand.
In the meantime, they are planning to add to their family. Swoop, their puppy to be, will soon join their pack: Sky, a black lab, orange tabby-cat Leia, and black cat Petra.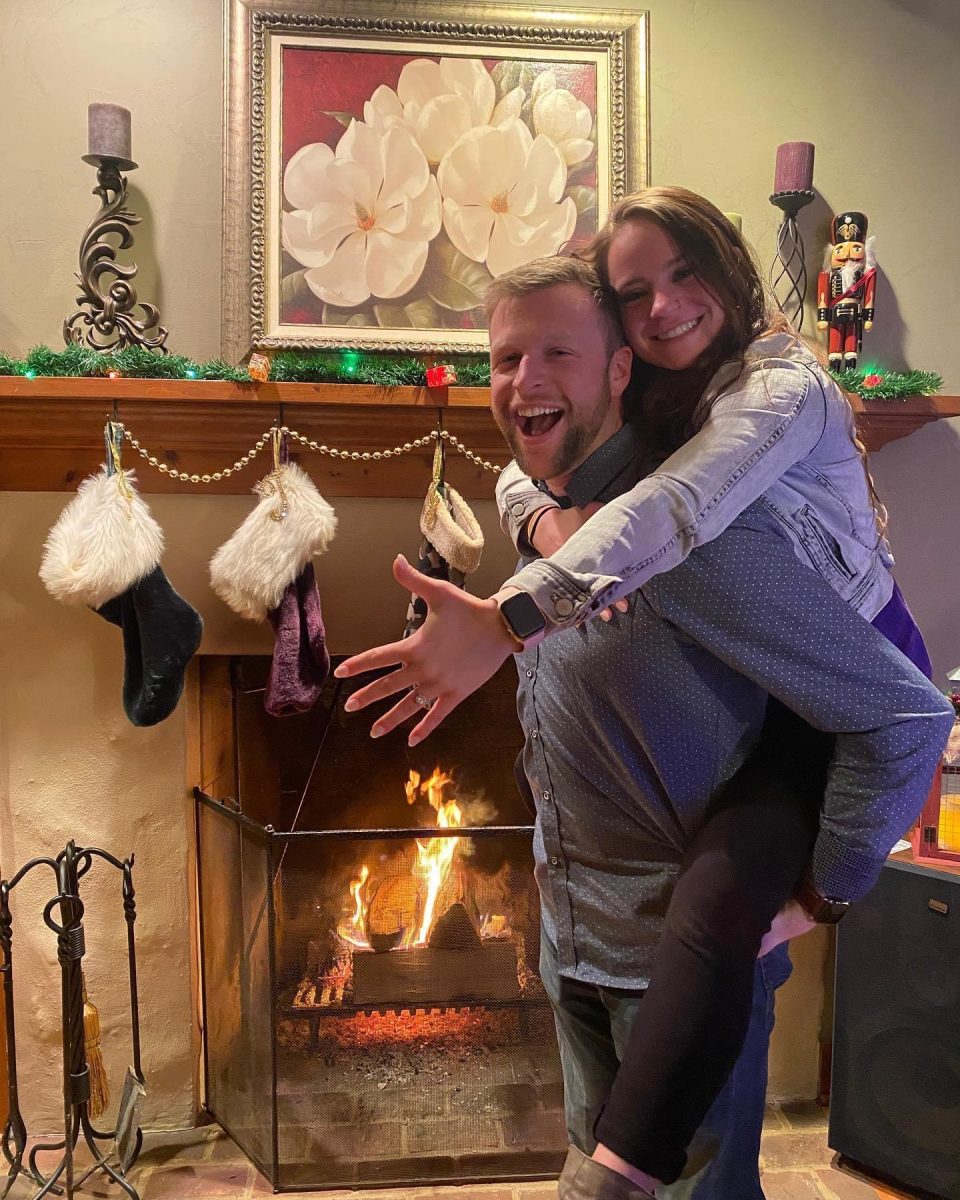 Having both their real-life family and skydiving family within reach suits Sean and Jessica wonderfully well. WSC is their happy place; their shared home away from home. Here, they continue cultivating the very values that drew them together that night in 2015 – long-standing friendship, a strong sense of community and a culture of good vibes.
"On the ground or in the air, WSC is a bubble of magical energy," they agree. "We have the privilege of spending time with some of the greatest people on the planet."
We couldn't have said it better! From your whole Wisconsin Skydiving Center family, congrats and blue skies, guys!