IS SKYDIVING WORTH THE MONEY?
Why Skydive
Posted by: Wisconsin Skydiving Center 7 years ago
Is Skydiving Worth the Money?
When people ask how much skydiving costs, we think they're asking another question entirely. We think they're asking is skydiving worth it. And y'know what? It is. How much skydiving costs in hard-earned dollars is disproportionately small, compared to the value you'll get from it when you approach it in the right way. Here's why.
The Investment Is In The Lasting Memories.
Every great experience costs, in some way or another, right? And most of these experiences fade pretty quickly from your memory. Can you remember what you ordered, the last time you went out for a white-tablecloth dinner? Probably not. It's the never-gonna-forget-this day landmark moments, after all, that provide the biggest bang for your buck– that prove to you that life on this planet can be truly jaw-dropping and that you can do so much more than you imagined.
Well: a nice dinner won't do that, but skydiving will. You'll remember your jump with excitement and fondness for quite literally years after you've landed. Everybody does!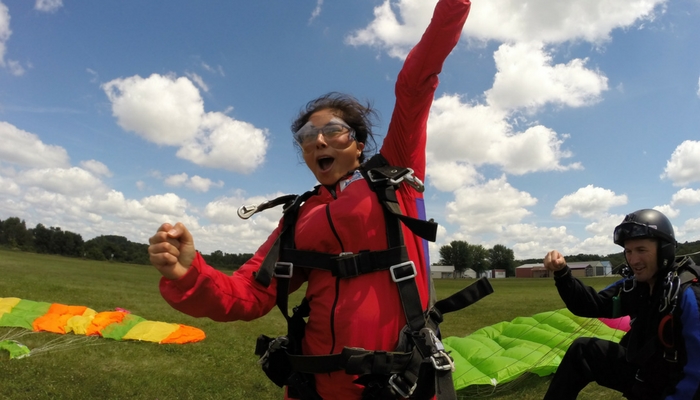 The Investment Goes Directly Into Your Safety.
Any great skydiving center costs money to run. Cut-rate jump operations just can't afford the equipment, personnel and aircraft maintenance that makes sure your skydiving experience is as safe as it has to be from the ground to the air and back again.
At the Wisconsin Skydiving Center, we've made these investments in your comfort and safety so you can relax and have fun. Our skydiving equipment is top-of-the-line, maintained to exacting specifications and operated by consummate professionals who care deeply about each and every one of the customers they introduce to skydiving. We think that the value of safety is incalculable when it comes to this sport, and we refuse to cut corners.
Invest Just A Little Bit More To Get A Lot More Joy Out Of The Experience.
Wisconsin Skydiving Center is not the cheapest place in Wisconsin to make a skydive. We don't want to be! WSC's focus is on the entire customer experience–and about helping new jumpers to see what skydiving is really all about. That means that a high-volume, cheap-as-chips skydive model doesn't fit with our company's beloved core values.
Our owners are passionate about this sport and work to make this a truly life-changing experience for each and every one of their lucky customers. It's that passion that drives an extraordinary experience, not the mere presence of a plane and a parachute.
Is skydiving worth the money? We think that the cost of a skydive, when you understand the value in the entire experience, is just right. This sport is about more than jumping from a plane; it's about working with you to face a challenge and showing you that you're prepared to handle it. That's priceless!