The Best Graduation Gift for High School or College is Skydiving
Why Skydive
Posted by: Wisconsin Skydiving Center 3 years ago
You read that right. Giving the gift of flight is the best present a recent graduate could ask for.
Skydiving is a unique graduation gift that they won't see coming, and as the gift giver, you'll forever be known as the "cool one." Want to take it to the next level? Join the graduate on the skydive to make a memory neither of you will ever forget! Not so keen on making the leap yourself? You can always serve as their happily-grounded support crew as they prepare to jump, and you can be there to cheer when they land.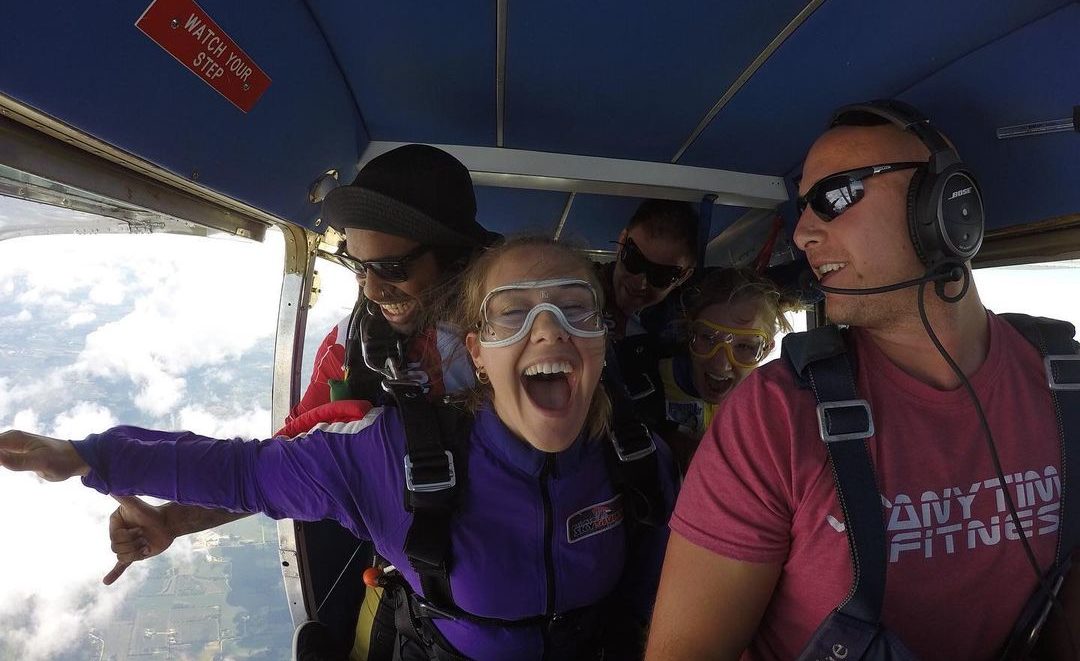 How do I give skydiving as a gift?
The gift of skydiving is priceless, and it's worth every penny to celebrate the momentous occasion of graduation. For the special graduate in your life, you can buy a gift certificate for a tandem skydiving package complete with photo and video, or if you're looking for an inexpensive graduation gift, you can buy gift certificates in $25 increments toward a skydive!
How does skydiving work?
Tandem skydiving is the most accessible way for an individual to make their first skydive. On a tandem skydive, the participant is attached via a harness to a licensed skydiving instructor. Because the instructor is in control during exit, freefall, and landing, extensive training is not required. Tandem skydiving is a great way to enjoy the experience of skydiving without all the stress of going it alone.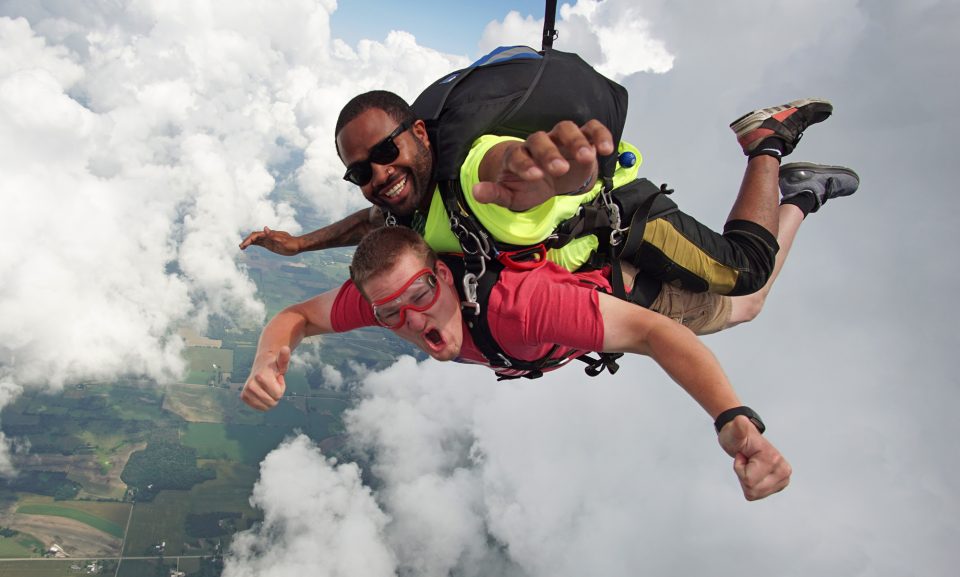 What's the skydiving process?
Signing up for a tandem skydive can be done online or over the phone. If you give a gift certificate, the recipient can book from our website by selecting the date and time that is most convenient for them. After that, the only thing left to do is arrive 15 minutes prior to the scheduled time to complete pre-jump paperwork. That's it! We take care of the equipment, and we provide all necessary training on site.
If you'd like a bit more information for yourself or to pass on to the recipient, check out this info about your first-time skydiving experience. You can also find specifics on how to prepare for tandem skydiving. And, last but not least, it doesn't hurt to give the FAQ's a read.
Skydiving is the Best High School Graduation Gift
Graduating from high school is a milestone that deserves to be coupled with a life-changing experience like skydiving. We can think of no better gift from parents for a daughter or son to help commemorate his or her dive into the real world than to dive from an airplane.
We know your graduate is precious cargo, and at Wisconsin Skydiving Center, safety is our top priority. As a result of strict standards, advanced equipment, and rigorous training programs we have maintained an excellent safety record.
When considering purchasing a unique graduation gift like skydiving, it is important to note that one of the requirements is to be 18 years of age or older. For individuals that aren't yet 18, we suggest a gift certificate. Gift certificates don't expire, and the recipient can use them once they are 18!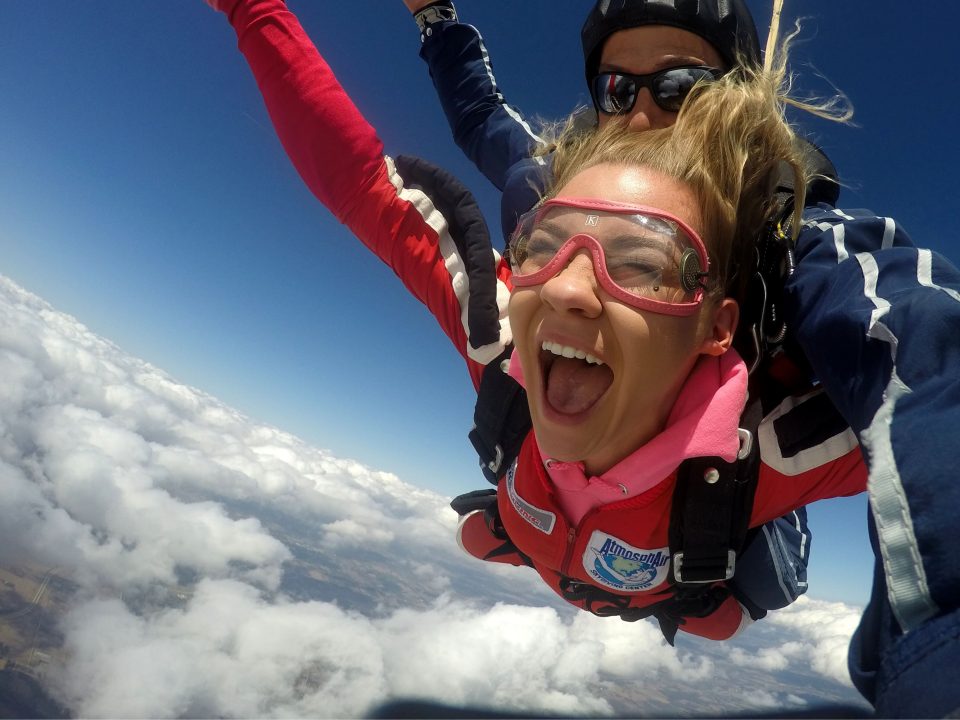 Skydiving is the Best College Graduation Gift
Adulting doesn't have to be lame – let loose and have some fun to celebrate the next phase of life! Plus after exhausting your brain to get that degree, you owe it to yourself: skydiving has many mental and psychological benefits for you to take advantage of.
Represent your University! Over the years, we've helped graduates from the University of Wisconsin–Madison, University of Wisconsin–Milwaukee, Marquette University, and many other colleges in the Midwest celebrate their graduation by jumping from a plane. Come decked out in your university regalia for an alum shoutout that simply can't be ignored!
Attention Mom & Dad: make the most of their visit! Is your son or daughter coming home to Wisconsin for the summer after graduating from college? The gift of a skydive is a great way to commemorate their achievement.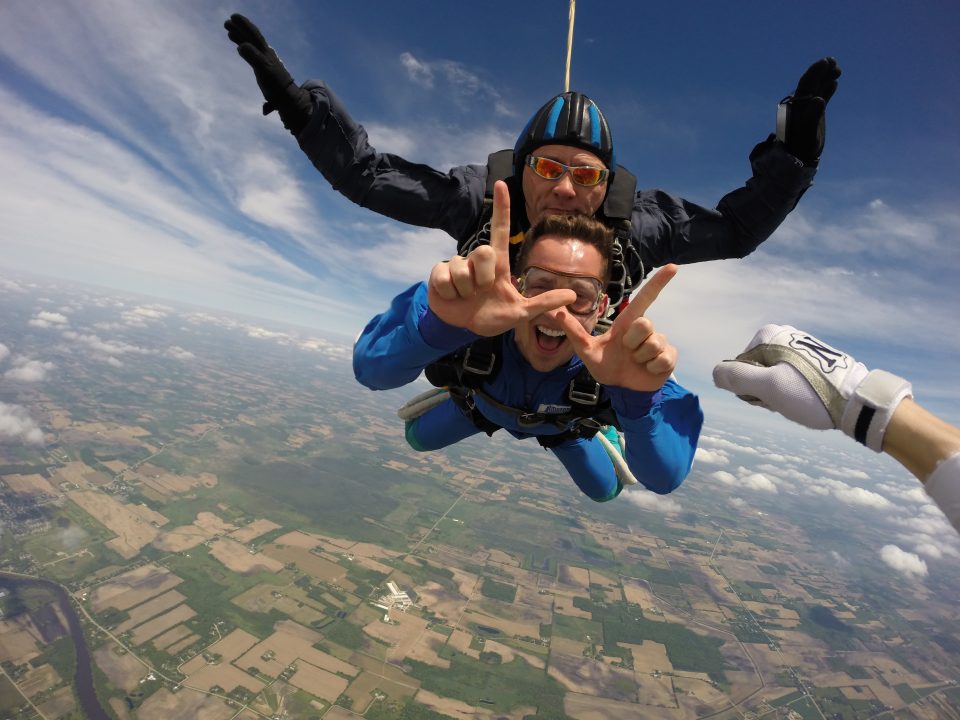 Memorable Milestone Experience with Friends
You shared late-night cram sessions, tailgates, and trying times. Why go on this adventure alone? Create a memorable experience with the people you've shared life with, and treat your friends to a unique gift with a group skydiving trip.
During your lives, you may spread out across the country, but an experience like this will always keep you tied to Wisconsin. Better yet, skydiving can even become an annual tradition and a great way to reunite with friends year after year.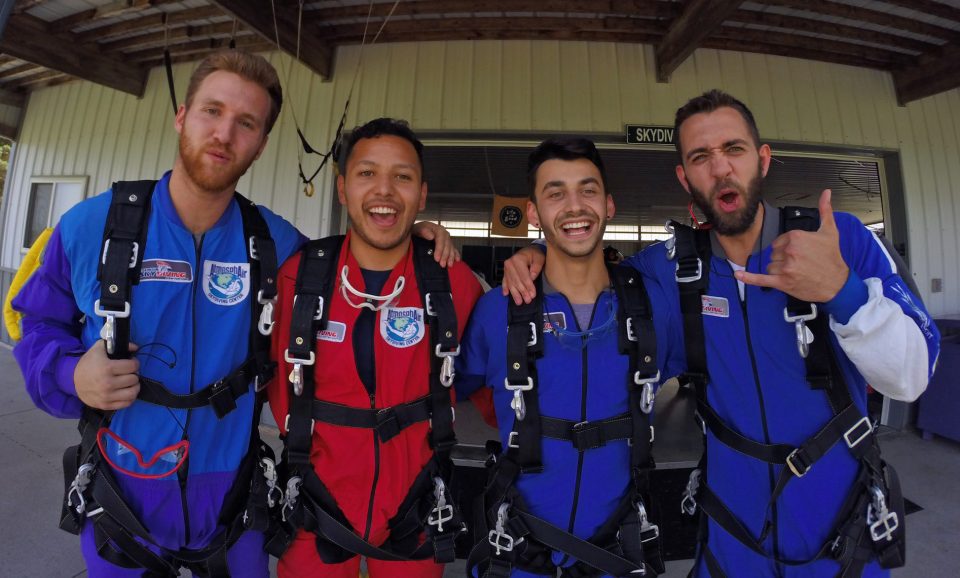 Do Something Different
Cards and cash are all well and good, but what about an experience the graduate will remember for the rest of their lives? Be unforgettable and give the best graduation gift ever. Schedule a surprise skydive or purchase a skydiving gift certificate today!